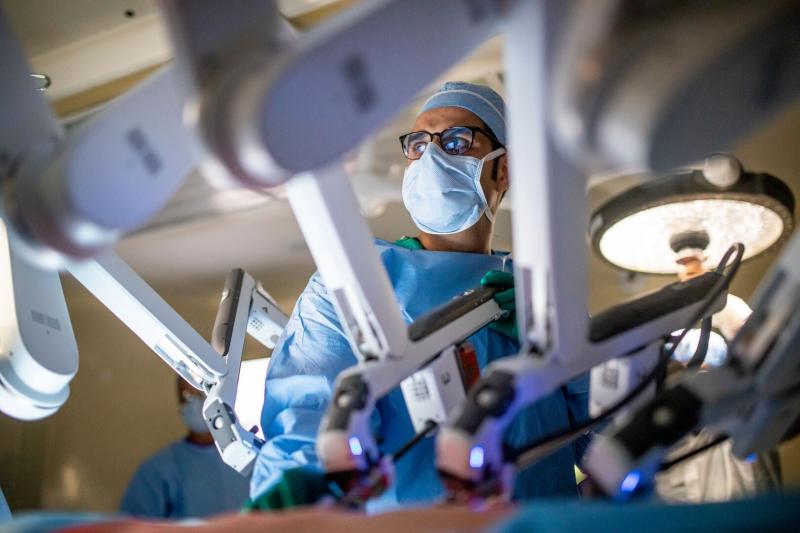 Revolutionizing Surgery and Recovery
When the most experienced surgeons have the most advanced technology, the result is better outcomes for every patient. Bolingbrook hospital, La Grange hospital, Hinsdale hospital and GlenOaks hospital all have da Vinci® Xi surgical systems that make procedures smarter and safer for surgeons and patients.
Mechanical marvels guided by a surgeon's capable hands, these robots combine remotely operated arms that hold surgical instruments with 3D, real-time imaging. This gives our surgeons greater precision and control during minimally invasive gynecologic, thoracic, urologic and general surgery procedures.
Together, the da Vinci® robot and your surgeon can perform complex procedures better than ever, with unmatched benefits like less blood loss, minimal scarring and a faster recovery.
Advanced Technology, Better Outcomes
Part of bringing world-class healthcare to the western suburbs means investing in state-of-the-art technology at our hospitals in your community. Hear from our UChicago Medicine AdventHealth La Grange surgeons on what it means to have da Vinci® Xi surgical systems at our hospital — and the incredible benefits for patients like you.
1 items. To interact with these items, press Control-Option-Shift-Right Arrow.
How Robotic-Assisted Surgery Benefits You
Better clinical outcomes for you
Faster recovery times
Minimal scarring
No need to donate your own blood before surgery
Reduced pain and infection risk
Resume your daily activities sooner
Shorter hospital stays
Smaller incisions with less blood loss